There are three common shapes of cloth face coverings: "Pleated", "Curved," and "Duckbill." Sewing each of these DIY masks is easy, and I will show you how.
Unfortunately there are two things causing a lot of confusion:
1- Thousands of mask makers and mask sellers are mistakenly identifying their "Curved" masks as "Duckbill" masks. Yikes.
2 – There are two names being used to describe each mask style, but I will clear all this up with pictures and a chart below.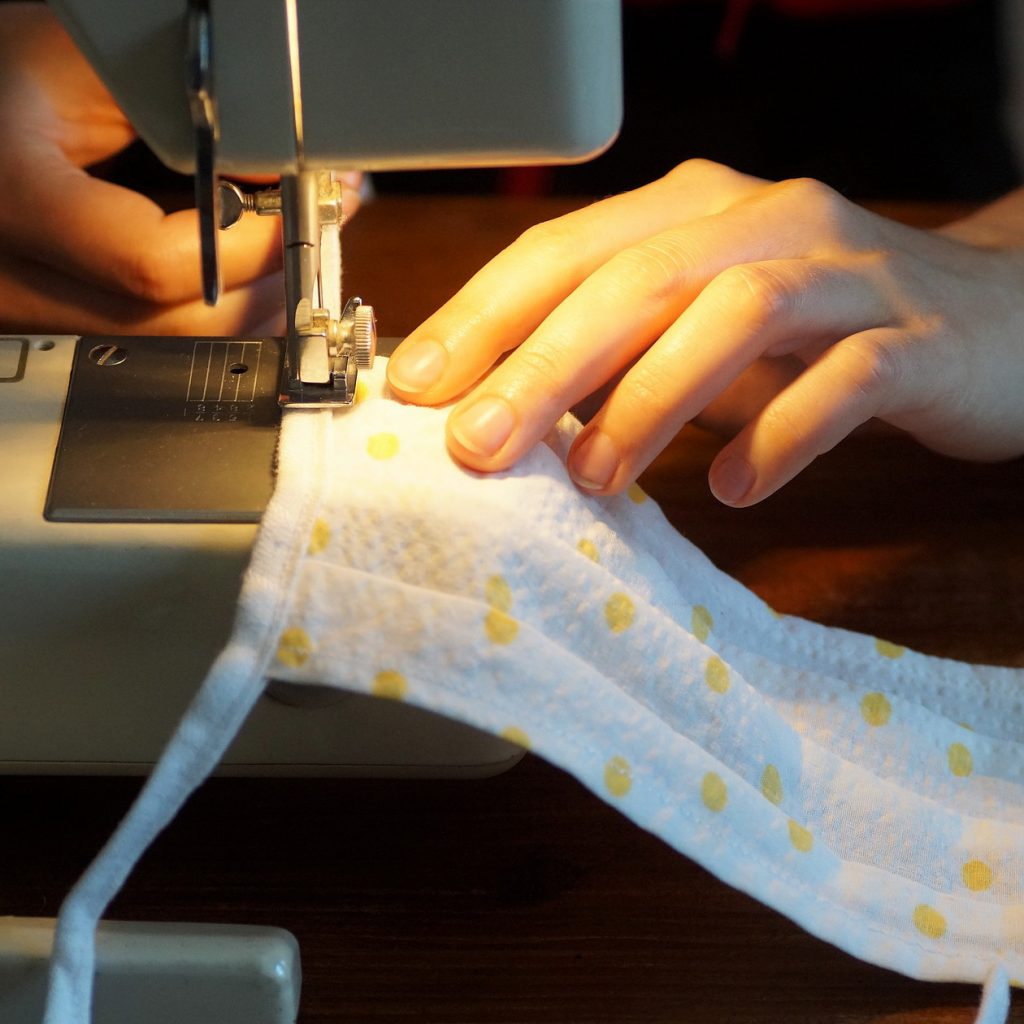 My name is Elizabeth, and in the 80's and 90's I was as a professional costume designer for theater and television. I've made costumes for everything from opera singers to giant tomatoes, and I know quite a bit about form, function, and fit. I was once a "starving artist," so I also know about being on a tight budget. Even if you have a materials budget of $0, you can still make your own masks!
What if you can't thread a needle? No problem! If you can use scissors and tie a knot, you can make easy, no-sew masks. And, if you want to learn a new skill while staying home, making masks is a perfect way to learn to sew.
Table of Contents
Scroll on down to read this whole post, or use the links to jump to each section below.
What are the Correct Mask Names and Shapes?
Before we dig into the "How To" part of this post, let's review the names and shapes of each mask style so everything is clear:
Commonly Used
Mask Name:
Also
Called:
Mask
Shape:
Pleated
Surgical
Rectangular, flat and pleated
Curved
Olson
Cups your face like a bowl
Duckbill
Pouch
Cups your face, has a protruding pouch
A "Pleated" mask is the homemade, do-it-yourself version of the familiar medical grade "Surgical" masks.
A "Curved" mask is also known as an "Olson" mask and is contoured to fit your face like a bowl.
Since we're now making Olson masks by the millions all around the world, I'd like to give recognition to the inventor: nurse-maker Lyla M. Olson (1895-1964), superintendent of nursing Kahler Hospital, Rochester, Minnesota, and author of: Improvised Equipment in The Home Care of the Sick, 1928.
Somehow mask makers and sellers everywhere, from Amazon to Walmart to Etsy, are mistakenly calling these "Curved" masks a "Duckbill" mask. Let's correct this confusion and give Nurse Olson the credit she is due.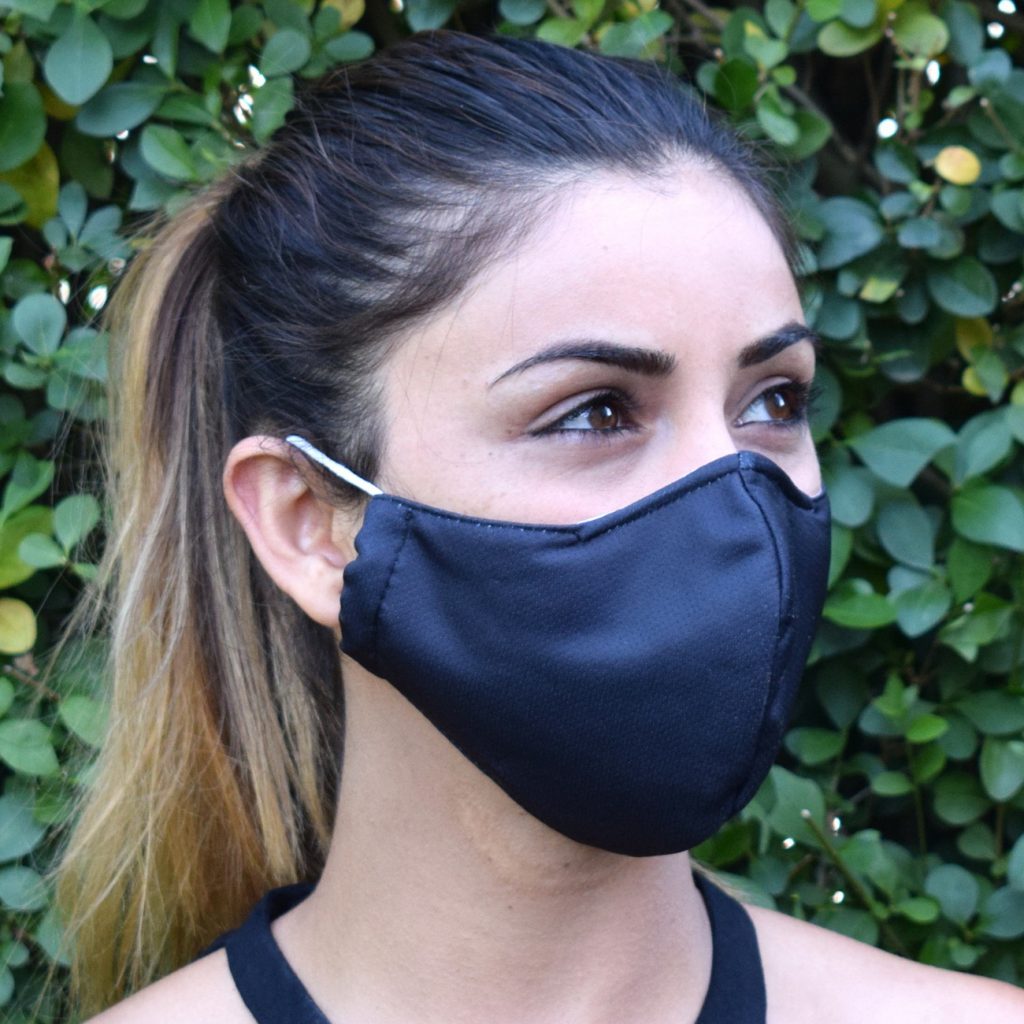 A "Duckbill" or "Pouch" mask hugs your face like a Curved mask, but has a front pouch that sticks out horizontally like a duck's bill. This pouch and this mask shape have *many* wonderful benefits for reasons shown in the first chart after the Table of Contents below.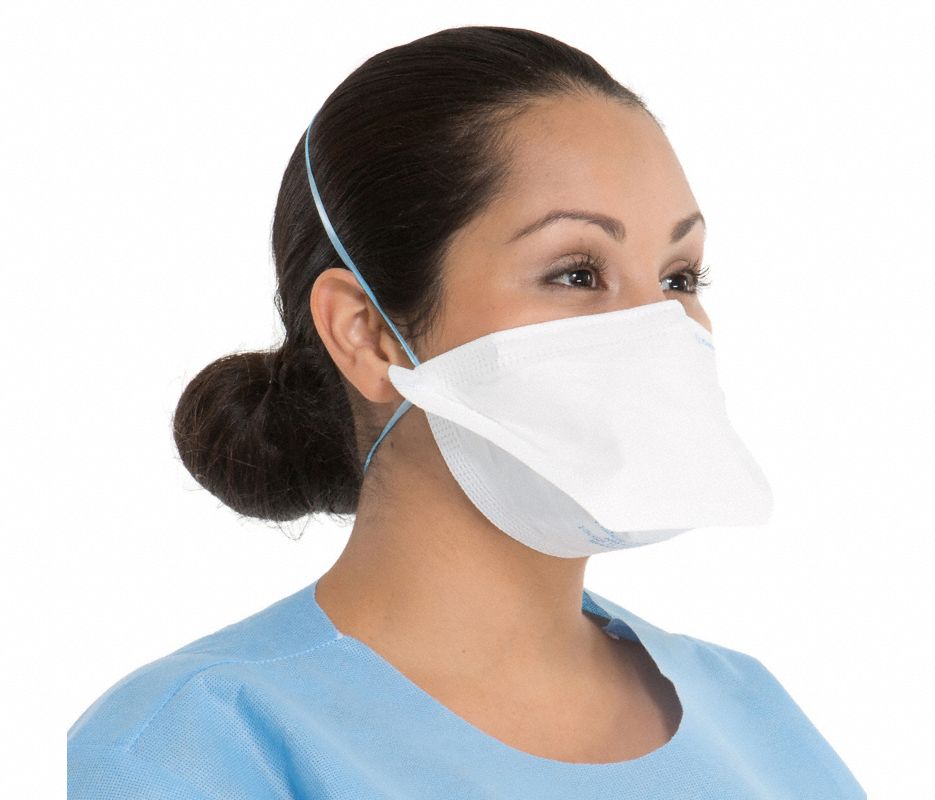 Which DIY Mask Shape is Best For Various Uses?
We cover these topics in detail in each specific mask section, but I gathered the most commonly-asked questions so you can see them at a glance:
| | |
| --- | --- |
| Which mask: | Answer: |
| is the most attractive? | Curved-Olson |
| requires no pattern? | Pleated-Surgical |
| doesn't fog up eyeglasses? | Duckbill-Pouch |
| is the easiest to breath in? | Duckbill-Pouch |
| is easiest to sew? | Duckbill-Pouch |
| is best for men with facial hair? | Duckbill-Pouch |
| is favored by medical professionals? | Duckbill-Pouch |
We think it is a great idea to use "Duckbill-Pouch" masks for everyday use because of their high efficiency and comfort, and to wear "Curved-Olson" masks when you want to look good for socializing.
Why Make DIY Masks Instead of Buying Them?
Masks are available for sale online, but:
– It's a good idea to have a *lot* of masks on hand so they get washed after each use, and the cost to buy that many masks can really add up.
– It's great to make a mask that matches a special outfit. Demonstrate your personal flair the same way you do with jewelry and shoes!
– Some masks online are well made and worth the money, but you can't ensure that the fit will be right.
How to Make Pleated Masks
"Pleated" masks are made in the same pattern as medical-grade surgical masks and are usually made out of woven (not knit) fabrics. They can be made with elastic loops to go over your ears or with cloth ties to go around your head.
Pros of Pleated Masks:
Masks in the "pleated" design are made out of rectangular pieces of fabric and are a perfect project for a beginning sewer. You don't need a pattern; you just measure, cut, iron in the pleats, and sew.
Many pleated mask patterns include a pocket for your choice of filter that you can take out for washing.
Cons of Pleated Masks:
Pleated masks do not fit closely to the sides of your face as Curved and Duckbill masks, and that can let virus droplets in.
Pleated masks lay flat across your mouth and do not allow any breathing room.
Both Pleated and Curved masks make it harder to talk than a Duckbill mask, since the fabric touches your lips and the movement makes the mask move up and down, sometimes right off your mouth!
Pleated Mask Instructions:
First, a terrific video by Professor Pincushion showing how to make one of the patterns from Masks Now. They offer a 3-layer mask pattern intended to have a filtering layer made from "Pellon" non-woven facing and craft materials considered desirable by the CDC.
Want to make 10 Pleated masks at a time? Angela Clayton gives a great overview about the effectiveness of pleated masks, while she shows how to make ten of them in a video.
Froedtert Medical College of Wisconsin offers a printable PDF that shows easy instructions on a pleated mask
Melanie Kham does an easy-to hear, easy-to-understand, cheerful, fast and clear video tutorial for a pleated mask with filter.
Catherine at Cut and Sew Studio has a video perfect for beginners. She shows each and every step in close up detail.
How to Make Curved Masks
"Curved" or "Olson" masks are just what they sound like: curved to fit the shape of your face. They are made with elastic ear loops or cloth ties that go around your head.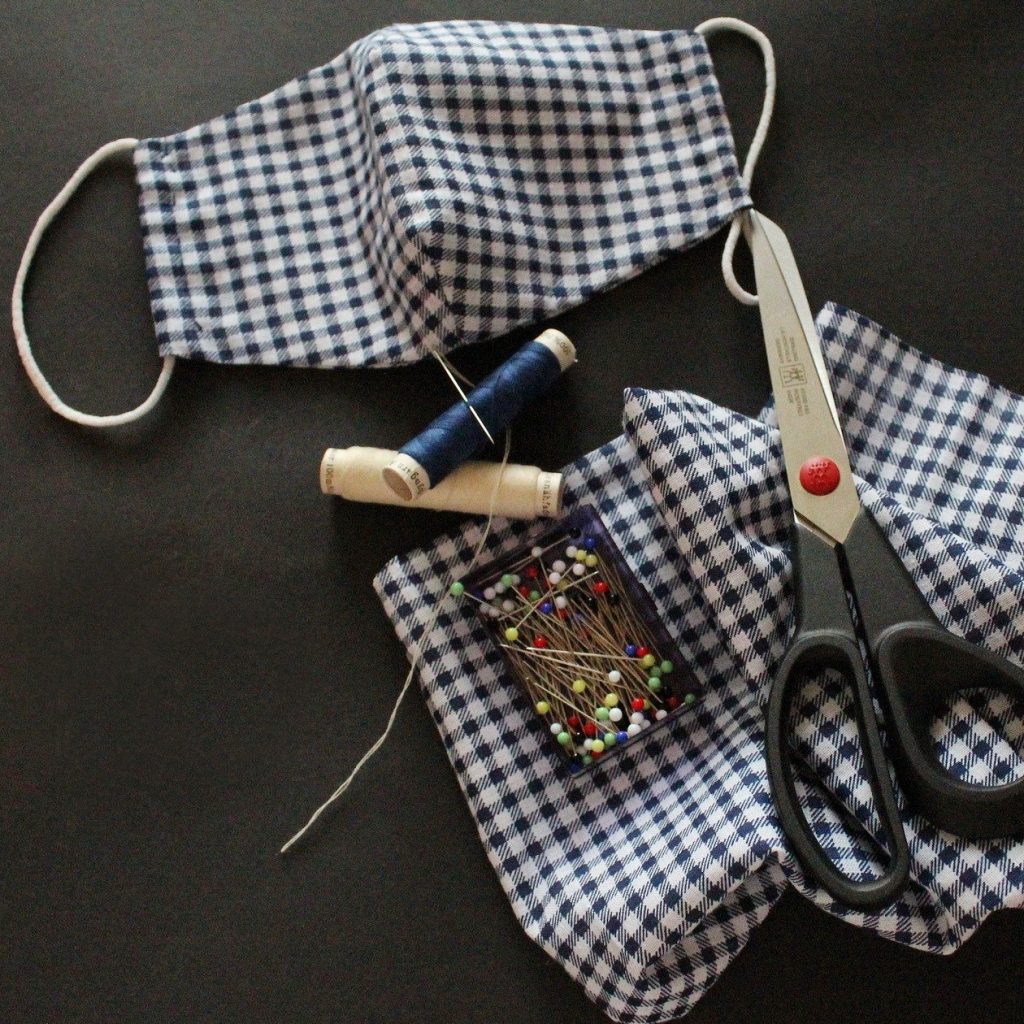 Pros of Curved Masks:
Curved masks fitted your face better than Pleated masks, ensuring that less viral droplets can get in.
Masks that are Curved are the most flattering of all mask shapes.
Cons of Curved Masks:
Curved masks require a printed pattern.
Because they curve, they do not easily allow for a flat replaceable inner filter like Pleated masks do.
Curved masks can be hard to talk in, since the fabric is right up against your lips and they bounce up and down as your mouth moves, and do not allow as much breathing room as the "Duckbill" silhouette.
Curved Mask Instructions:
The Fabric Patch offers excellent background info on how masks work, at the same times giving clear instructions and suggestions for supplies that are running short. Read the comments for excellent suggestions from nurses and front line workers.
Angela is using a modified version of this pattern: A.B. Mask – for a Nurse by a Nurse by former trauma-flight nurse Jessica Nandino. Jessica also offers a version with a metal nose piece.
Joost De Cock is married to a surgeon and started the FreeSewing Open Source Project. See his excellent video and instructions and free sewing patterns for the "FU Face mask." Patterns for this well-fitted mask are available for print in US Letter and International A4 paper sizes.
Craft Passion's video shows how to make a well-fitted mask. Also supplied: a wide variety of patterns and sizes for Adults, teenagers and kids in age groups 3-6 and 7-12
How to Make Duckbill Masks
A "Duckbill" or "Pouch" mask shape is one of the least well-known, but it is by far the most functional face mask shape. Just like the Pleated and Curved masks, Duckbill masks are also manufactured to pass "N95" standards. Homemade Duckbill masks can get close to N95 filtration rating if you make them out of HEPA filters. They are almost always made with elastic that goes around the back and top of your head.
Pros of Duckbill Masks:
A Duckbill mask does not touch your mouth, making it much easier to talk.
The extra space in the front pouch allows the air to cool and moisture to evaporate, making this the ideal mask for eyeglasses wearers. Because medical professionals almost always wear goggles, the Duckbill shape is their mask of choice.
The pouch in front means the mask feels less constricting and claustrophobic, but the edges of the mask covers your mouth and nose with a snug fit.
Cons of Duckbill Masks:
Duckbill masks have a superior function over all other shapes, but some people feel that the form of Duckbill masks is not as attractive as the Curved masks. Oh well! It makes no sense to choose a sleeker profile but not be able to breathe well, or have to deal with fogged up glasses. Have fun! Make them in orange or yellow and watch your friends and co-workers get a good giggle.
Duckbill Mask Instructions:
There have been over 10 million views to the excellent video made by Board-certified Emergency Room Physician Dr. Southworth, on how to make a duckbill mask using HEPA filters.
Physician Dr. Chris Holmes made this PDF Duckbill face mask pattern, and people who tried his pattern also shared additional pattern and instruction sets: DuckBill Mask 1 and Duckbill Mask 2
Make "No Sew" Masks From Supplies On Hand
"No Sew" masks are always a flat shape and can be made out of a spare t-shirt, pillowcase, or dish towel. Be sure to wash the cloth first if it has been used.
Pros of "No Sew" Masks:
"No Sew" masks are good for people who do not know how to use a needle and thread, or do not have a sewing machine
"No Sew" masks are great if you are on a tight budget.
If you need a mask "on the fly" or unexpectedly, you can whip up a "No Sew" mask in the time it takes you find a t-shirt or bandana and some rubber bands.
Cons of No Sew Masks:
It is very important to note that balaclavas and single layer bandanas or scarves do NOT stop the transmission of viruses and droplets from talking, coughing and sneezing. If you use a bandana or scarf for a quick mask, you must fold it into several layers and/or add a filter layer, such as a paper towel or a coffee filter.
Masks considered ""No Sew"" are generally not as sturdy or long-lasting, especially when taking on and off.
"No Sew" masks do not fit as well as sewn masks.
"No Sew" Mask Instructions:
In April of 2020 the CDC posted this 45-second video on how to make a mask out of a t-shirt and rubber bands. Note that it is cheap and easy to get elastic "ponytail" hair ties, and they feel better on your ears than rubber bands.
Dr. George Yang has posted a video that shows you how to make a mask out of paper towels and rubber bands
You can make a super-casual mask in 3 minutes by cutting up a shirt and using (clean!) shoelaces for a mask with a pretty darn good fit. NBC News Denver shows how.
Learn how to use a scarf or bandana and simple elastic ear loops from WCCO – CBS Minnesota
Fabric Selection Tips for Mask Making:
Follow these fabric selection tips to make your DIY masks work smart and feel comfortable:
Use breathable fabric, preferably 100% cotton or silk. The goal is to be able to breath, but to use multiple layers to trap virus droplets.
Finer or tighter weaves are better for filtration. An easy way to test this is to put fabric in between you and some bright light and see if light penetrates. If so, you need to double your fabric or add a filter layer.
To make the mask feel nice on your face, try to use soft cotton or flannel on the inside layer that touches the wearer's face.
You can order pre-cut flannel and cotton fabric online, or use easy-to-find, 100% cotton fabrics, such as cotton and flannel sheets and pillow cases. You can also "upcycle" by cutting up shirts and dresses that are starting to get worn out. Or, go to the thrift store and buy sheets or clothing with fabric you like, just remember to wash it before you cut it for sewing.
Your Fabric Color Choices and Patterns Matter:
Use different colors of fabric on each side of the mask if you can. This lets the wearer know which side they had against their face if they have to take the mask off momentarily to speak or eat.
Lighter colored fabrics are best for the front or outside facing surface, as this lets the wearer more easily see soiling. The back, inside surface of the mask should get the darker or busier pattern.
DO NOT USE solid vinyl, plastics, or plastic sheeting. In order for the mask to act as a filter, the person wearing it has to be able to breathe in air.
Design Tips So Your Masks Fit Well:
Fit is just as important as fabric selection. If you make or purchase a mask that does not not fit snugly around your cheeks, nose and chin, then air that is unfiltered viruses can easily leak in.
Nose Grip:
Including a nose grip helps to ensure tighter and better fit. Some people have tried to make these themselves, but they run the risk of creating sharp edges that can cut their face. It's easier to buy this mask-making component, but if you make these from pipe cleaners or small gauge wire, remember to put them inside the layers of fabric so your face does not get scratched or cut.
Tie It On:
For snug fit and maximum comfort, masks are better when made with ties or elastic loops that fit around the head, not hanging off the ears.
Elastic loops can hurt the ears of some people. Extended use like daily mask wearing can make your ears stick out, sometimes permanently. This is especially true of younger people. This is the same situation as when little girls wear their hair tucked behind their ears; do it often enough and the ears will stick out unnaturally.
Pre-Wash Before Making:
Make your mask out of washable fabric. To ensure that your mask will not shrink after you make it, wash in hot water and dry the fabric on medium or hot settings.
Safe Filtration Materials:
When you make a mask you *can* double or triple the fabric layers, but to reduce unpleasant bulk it is best to use a filtering fabric:
A mask filter made from non-fusible "Pellon®" interfacing is considered most desirable by the CDC for DIY masks. We cover Pellon in detail in the next section.
HEPA Air filters are safe to use for filtration, but it is very time-consuming to take apart a HEPA filter to get at the filtration material. It's easier to buy a safe, washable filtering fabric like Pellon interfacing.
If you make a mask with a slit or pouch for a *removable* liner, you can use filters specifically made for masks, or coffee filters or even paper towels.
Unsafe Filtration Materials:
Using the wrong fabric or filtration layer in a mask can cause serious breathing or health issues!
"Shop towels" are NOT meant as mask filters. Most shop towels are made from recycled waste. While some shop towel manufacturers state that there are no harmful chemicals in their towels, others state the opposite. Either way, all shop towels can't be washed because they are disposable. If you use them as a layer sewn into a mask and then wash the mask, the shop towel will start to disintegrate and will get lumpy and uneven inside the mask you made.
Do not use non-HEPA vacuum cleaner bags as filters. Many non-HEPA vacuum cleaner bags are made from fabric that contains glass fibers. According to ShopVac, a major manufacturer of vacuum cleaner bags, they have received frequent inquiries about filtration materials in their products. They caution people that the filter materials used in vacuum cleaners are not to be used for any purpose other than protecting the users of Shop Vac products from debris being expelled into the air during use. Their website states that these filters are not intended or designed to protect people from viruses, bacteria, or any other pathogens. They also state clearly that covering your nose or mouth or with the filters are strongly discouraged for any reason. They are emphatic that the materials they manufacture were not designed for mask use and that no one should make masks from filters manufactured or sold by Shop-Vac.
DIY Mask Filtration: Pellon Is Best
Pellon® is a 50 year old sewing and crafting materials company, and I have been using their products since I learned to sew at five years old. Here is some handy info about Pellon® materials:
Pellon makes a special fabric called "interfacing" that sewers and crafters use to make other fabrics stiffer, but it also serves as a terrific filter for DIY masks. Interfacing is midweight to lightweight material considered desirable by the CDC for mask making.
Most interfacing made by Pellon is nonwoven. This means that the material is not produced by a modern loom or weaving machine, but made from fibers that are melted together, or "bonded."
Pellon interfacing does do not have a "grain." This means it does not matter which direction you lay the Pellon next to the main fabric.
You can find Pellon in several weights, depending on how flexible or stiff you want your mask. Some people like a more flexible "give" to the mask, so it hugs their face. Many people prefer a mask to be a bit stiff (but made of soft fabric) so that it does not fall down from their nose when they are talking.
Here is a look at the characteristics of various types of Pellon® appropriate for use as filters in mask making:
| | | | | |
| --- | --- | --- | --- | --- |
| Product | Width | Weight | Common Use | Color |
| Pellon 910 | 20″ | Featherweight through midweight | "Sew-in" interfacing that adds stability but is not extra stiff | White |
| Pellon 30 | 20″ | Featherweight | "Sew-in" crafting stabilizer often used as needcraft backing | White |
| Pellon 40 | 20″ | Midweight | "Sew-in" crafting stabilizer most often used as needcraft backing and for making placemats thicker | Black and White |
Web Info Life gets commissions for purchases made through links in this post.
Does Pellon Need to Be Pre-Shrunk Before Use?
No, it's ready to use after you purchase it. As a reminder though, do pre-wash the fabric(s) you have chosen for your masks to ensure it's clean, and if the fabric is new, to remove any finish from the mills.
All types of Pellon listed above are 100% Polyester and can be machine washed on warm. They should be air-dried or tumbled dry on low, or you can dry clean them.

Pattern Design Made Easy With Pellon
If you are going to make multiple masks for you and your family or for donation, I suggest you use a durable pattern template and not tissue paper. Your work will go much faster this way! Pellon® makes two products idea for pattern templates and I have outlined them in the chart below:
| | | | | |
| --- | --- | --- | --- | --- |
| Product | Width | Weight | Common Use | Color |
| Pellon 830 Easy Pattern | 45″ | Lightweight | Intended for use in pattern tracing and drafting. This is perfect for printing a reusable pattern because it is designed to go through inkjet printers. | White |
| Pellon 810 Tru Grid | 45″ | Midweight | This material is printed with a 1" graph to allow you to duplicate patterns accurately. | White |
Good Luck and Have Fun Making DIY Masks!
Thanks for reading this article. By following the guidelines I have provided above, you can make safe, effective and attractive DIY masks.